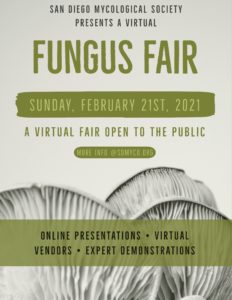 San Diego Mycological Society will be hosting their 23rd Annual Fungus Fair 
on Sunday, Feb 21, 2021
. This time it will be virtual! We hope that you join us for some fascinating mushroom talks, cooking demonstrations, as well as a chance to meet and purchase your beloved mycophilic goods from our vendors! EVERYONE IS WELCOME TO JOIN!
WE NEED YOUR HELP! This year, since it will be virtual and we miss our community, we would like to compile home videos and photos of all you fun-gi humans out there on what mycology related things you have been up to the last year. These videos and pictures will be displayed during the fair. You can include images/videos like you foraging for wild mushrooms, creating fungi art, identifying mushrooms, or even create something new like a video of how you interact and relate to fungi. Be creative! Please send your submissions to 
fungiofsandiego@gmail.com
. You can add a short description of your picture/video and include your name if you would like to be cited in your email. Thanks! We look forward to bringing you our cherished fair!