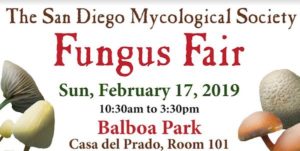 FUNGUS FAIR!!!
Fungus Fair is this: Sunday February 17, 2019 10:30-3:30. As a club we need your help to make this event great!
Please mark your calendars and spread the news to colleagues, family, friends and mycology enthusiasts!        2019 Fungus Fair Flyer
Volunteers
Consider being a volunteer for the event, we have several positions available to fit your needs and availability. We will train you for any position you wish to help us with. It is very minimal and mostly self-explanatory, but we will be there to guide you so you can enjoy the event and feel confident in helping us.
Also, as a member perk you get to come on our annual foray to help find fresh specimens, held Saturday Feb 16 location TBD. (Weather cooperating, otherwise we will suggest possible areas to scour for specimen). We will be discussing this a bit further in our January Monday meeting.
Here's how to volunteer:
If you are interested in being a volunteer at the fungus fair you can let us know several ways:
In each please include your : name, telephone, email address (what's the best way to contact you), what position you would like to do (can also leave it open and we place you where you are needed the most), what times you are available
Positions available:
Set Up 1: Saturday 2/16, 5-10 pm, food provided. We need to set up tables, chairs, booths, ID table, to be ready for next days event.
Set Up 2: Sunday 2/17, 8-10am. Last minute touches making sure the room is ready to receive guests.
FAIR BEGINS::::: 10:30 am Sunday Feb 17
Greeters: We need two at a time, located at each entrance. Helps answer questions about events as well as direct people to the right location so their answers can be fully met. (Don't worry, you don't have to know everything about mushrooms being in this position)
Membership Table: Collect money and enroll new members (and old) for their membership.
Children's Table: Help facilitate activities for children during the fair. We have some games and ideas with this, but you are able to get creative and plan some of your own.
Book Store: Need several!!! Sell merchandise from our book store (T-shirts, books and other interesting material). We accept money, Venmo, Paypal and CC.
Floaters: Help all positions in the room. This helps people vending, greeting, and sales people are able to take adequate food and bathroom breaks. Will be able to help with all positions.
Break Down: Severely needed help to break down everything after the fair! We need to make sure we remove all our items as well as the vendors, break down of tables and chairs.