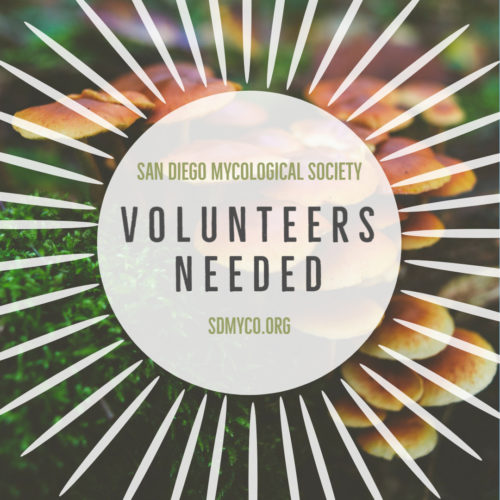 SDMYCO Volunteers Needed! Are you able to help us at the Fungus Fair this weekend? We have many needs!
Please email volunteer@sdmyco.org with your interest. 
Volunteer positions available:
Saturday Set Up 5-10pm (Dinner provided)

Sunday Set Up 8-10am 

Greeter

Membership

Children's Table`

Book Store Table

Mushroom ID

Game Table

NAMP CItizen Science

State Mushroom Voting Table 

Floater

Break down 3:30 – 6pm
We also have needs at future events (free entry for volunteers):
March 1 : POC Fungus Fair

March 28 : SD Citizen Sci Expo

April 4 : Rancho Bernardo Earth Fair

May 3 : Fermentation Festival 

Jun 6, 7, 13, 14 : Del Mar Fair
We have more ideas that will require help to pull off  (movie nights, community mushroom garden etc) so please let us know anyway that you can help by emailing volunteer@sdmyco.org. 
Thank you and look forward to seeing you out there!