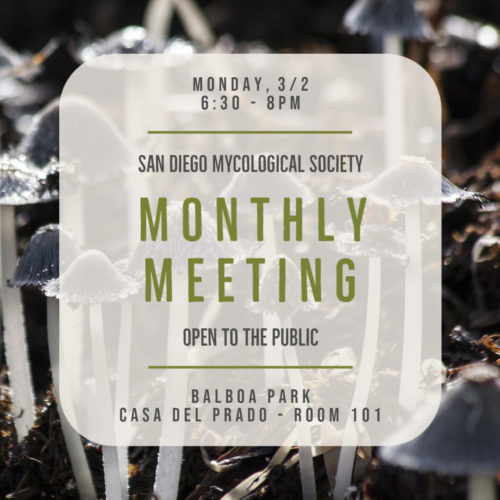 Hello Mycophiles! Our next club meeting is less than one week away on Monday, March 2nd. We'll be joined by Olga Tzogas the creator of Smugtown Mushrooms based in Rochester, New York. Olga will share her experiences as a mycologist traveling back to her ancestral home of Greece. We will explore the relationships the locals have with certain species of mushrooms, plants, and their recipes for use. Together we will experience the different bio-regions and the life that grows there during the fall months to see the similarities of fungal life that are shared on both continents
As a reminder we meet the first Monday of each Month, October – May. Download our public event calendar to stay up to date on all the happenings.
March 2nd Meeting Details
5pm: Meet the speaker dinner (Open to the public) @ Kairoa Brewing Company, 4601 Park Blvd
6:30 – 8pm: Meeting @ Balboa Park, 1650 El Prado, Room 101
Agenda
6:30: Welcome / House Keeping
7:00: The Mushrooms + Culture of Greece presented by Olga Tzogas
Speaker Bio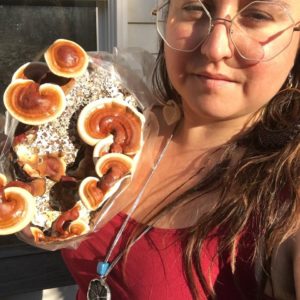 Olga Tzogas created and operates Smugtown Mushrooms in Rochester NY. Her journey with fungi and plants started over ten years ago. Working with these allies by foraging in both urban and more wild settings, and developing skills to identify for food and medicine. In 2011, Smugtown Mushrooms was established due to a need for mushrooms and growing supplies, workshops, events and community based science in her area. While continuously learning more and embracing the never-ending, unlocked potential of mushrooms and fungi. Olga teaches workshops throughout the world about wild mushroom identification, medicinal mushrooms, biology, and mushroom cultivation. She was a core organizer for the 2016 Radical Mycology Convergence and the MycoSymbiotics Festival from 2015-17 and helped establish the first ever New Moon Mycology Summit in 2018. Olga returns annually to offer mushroom and plant focused tours within her ancestral home of Greece.