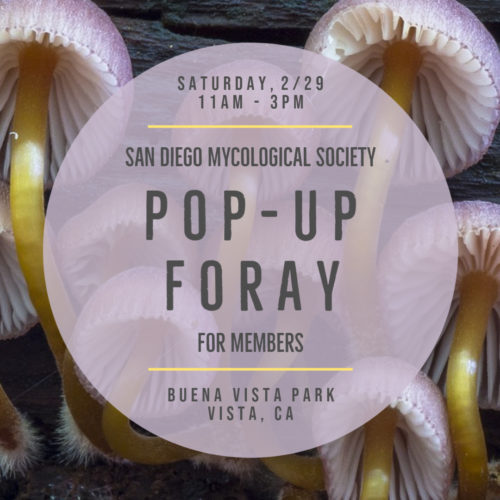 Please join us for another SDMYCO POP-UP FORAY! 
We're excited to get out into the wild again. Although the lack of rains this season may not produce an abundance of mushrooms, hopefully some will be up, as the atmosphere has remained moist. Last year's foray at this site was quite rewarding!
All member attendees must register HERE to participate.
Saturday, February 29th
11am-3pm
Buena Vista Park Loop Trailhead
1601 Shadowridge Dr, Vista, CA 92081
*Enter through Antigua and Shadowridge Rd. and go towards the end of the parking lot. Meet at the  picnic tables
A Few Things To Note
This is a members only foray. Non-members can join HERE. Only one membership per family is required.
Each participant must register before arriving at the event. Unregistered attendees cannot participate due to liability.
When registering you are required to agree to our liability waiver.
Parking is VERY limited. We should average about 3 participants per car. Please arrange to carpool with other members HERE.
We are building relationships with park services, so please follow all stated and posted rules before and during the event so that we can continue to come back.
All registered attendees are required to arrive by 11am for sign-in and debriefing.
Be Prepared
Download iNaturalist and/or Mushroom Observer and download PROJECTS: 1) Fungi of San Diego County, CA 2) San Diego Mycolological Society Mycoflora Project 3) Buena Vista Park Foray : San Diego Mycological Society
Get familiarized with proper data collection HERE 
Dress for the conditions: hat, sunscreen, hiking shoes, rain gear and warm layers as needed
Bring water, snack and bagged lunch if desired
Bring a basket, brown or wax paper bags, collecting containers and tools
Foray Agenda
11am: Arrive via carpool. Meet for check-in and debrief.
11:15am: Depart meeting area for foray. 
2pm: Meet back at designated meeting area (picnic tables) to begin identification of species.