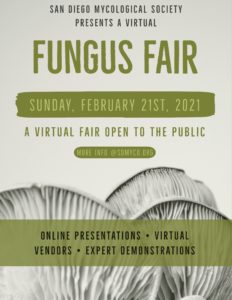 San Diego Mycological Society Presents
The 23rd Annual San Diego Fungus Fair
Sunday, February 21st, 2021
Virtual Fair
10:30am ~2pm PST
Fungal friends from near and far…. we welcome you to San Diego's 23rd Annual Fungus Fair.

Virtually screened on Sunday 2/21/21 via Facebook Live and our very own YouTube Channel : San Diego Mycological Society
HOW TO WATCH: Tune in to Facebook LIVE or YouTube
Facebook : San Diego Mycological Society  https://www.facebook.com/events/702826457028834/
YoutTube :   San Diego Mycological Society Channel https://bit.ly/2M97nqZ


This year SDMYCO is spreading thier love for mushrooms to a wider net than just SD mycelium, the world wide-web that is. As lovers of mushrooms we are well aware of the importance of being connected to each other in a symbiotic relationship, and we are joining our efforts to keep us a devoted biological community. We are lucky to have a great line up of knowledgable people share thier passions and insights. Join us on this one day event filled with fascinating mushroom talks, cooking and cultivating demonstrations, and featured vendors with amazing mycophilic goods.
FIND OUT MORE:
STAY CONNECTED:
Facebook: San Diego Mycological Society
Instagram @SDMYCO
Become part of SDMYCO Community!

Tell ALL your fungal friends, they dont have to be in San Diego to participate this year and FREE its to attend!
We are excited for you to join us!

Mush Love,
SDMYCO