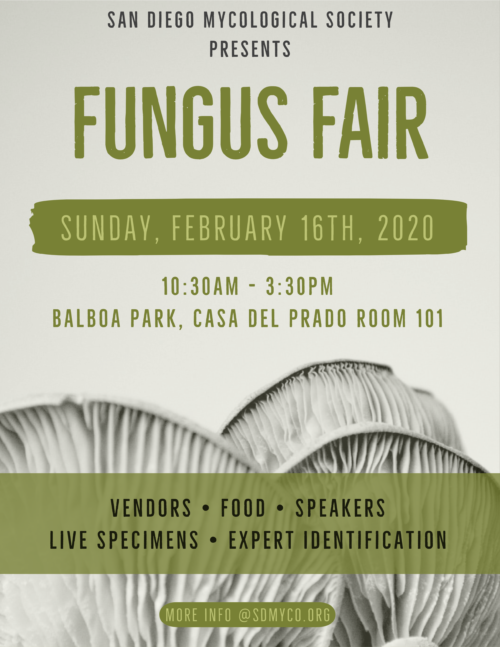 The San Diego Mycological Society presents
The 23nd Annual San Diego Fungus Fair 
Sunday, February 21st, 2021
VIRTUAL FAIR
10:30am  ~ 2pm PST
Admission free for all 
HOW TO WATCH: Tune in to YouTube or Facebook 
YoutTube :   San Diego Mycological Society Channel https://bit.ly/2M97nqZ
Facebook : San Diego Mycological Society  https://www.facebook.com/events/702826457028834/
EVENT SCHEDULE
10:30am Welcome: Michelle Jachimowicz, President of SDMYCO
10:32am Mycelial Growth of SDMYCO: Pat Nolan, SDMYCO Board Advisor
10:33am Fun Mushrooms of Southern California: Matthew Meyer, SDMYCO Membership Manager
10:49am All About North American Mycological Association: Barbara Ching, President of NAMA
11:22am Life of Spores: Dr. Mary Ann Hawke, SDMYCO Citizen Science Manager
11:39am Mushroom Cultivation Demonstration: Sam Andrasko, SDMYCO Board Advisor
12:34pm Award for Excellence in Mycology Recipient: Fabiola Pulido-Chavez, UC Riverside
12:43pm Mushrooms through the Ages: Dr. Elio Schaechter, SDMYCO Founder
1:10pm Origami Mushroom Demonstration: Cassandra Ablola, SDMYCO Treasurer
1:15pm Cooking Demonstration: Sara Restivo, SDMYCO Club Chef
1:30pm Mushroom Trek to Mt. Everest: Richard Silber, International Mountain Trekking, Inc. Dr. Shiva Devkota, Yehuda Goldman, and Matthew Meyer.
1:51 Introduction to Lichen: Les Braund, SDMYCO Board and Siena McKim, SDMYCO Education Manager.
2:20 Closing : Michelle Jachimowicz, SDMYCO President
Check out all our passionate vendors during the fair. Some will have special discounts for being a part of the fair! ENJOY!!!