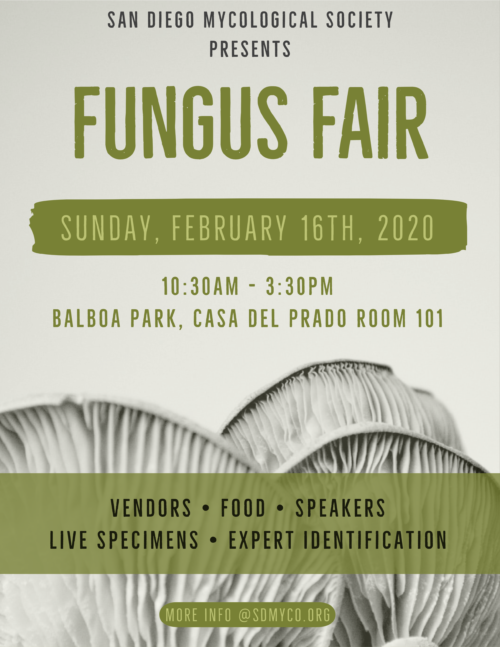 The San Diego Mycological Society presents
The 22nd Annual San Diego Fungus Fair 
Sunday, February 16th, 2020
10:30am – 3:30pm
Balboa Park, Casa Del Prado, Room 101
1650 El Prado, San Diego, CA 92101
Admission free for all ages
The event will showcase the most beautiful, the most dreadful and the most edible mushrooms that San Diego County has to offer. Join mushroom experts and enthusiasts for a day of mushroom identification, demonstrations, lectures and vendors. This is a family friendly event that will include a children's corner to encourage your little ones to get curious too! 
"The San Diego Mycological Society's Fungus Fair is the best way to get acquainted with all that the San Diego mushroom community has to offer." – Michelle Jachimowicz, President, San Diego Mycological Society
Learn about your local mycoflora by visiting displays of locally collected mushrooms and lichen as well as fungal ecology, toxicology, and cultivation.
Get active by visiting the Mycoflora Project table and learn How to be a Citizen Scientist. Be a part of history by helping us choose the first official California State Mushroom!
Take a little something home as a variety of vendors will be showcasing the beauty, variety and uses of mushrooms. 
Expand your knowledge by joining a lecture by one of our guest speakers:
Rayne Grant, a fungal enthusiast, citizen scientist, film maker, mother and artist, based out of Durango, Colorado will be showcasing her work and her latest documentary, "

Can Mushrooms Save the Planet?

". 

Austin Durant, from San Diego Fermenters Club, will share knowledge on fermentation and fungus.  
Interested in Volunteering? Email volunteer@sdmyco.org