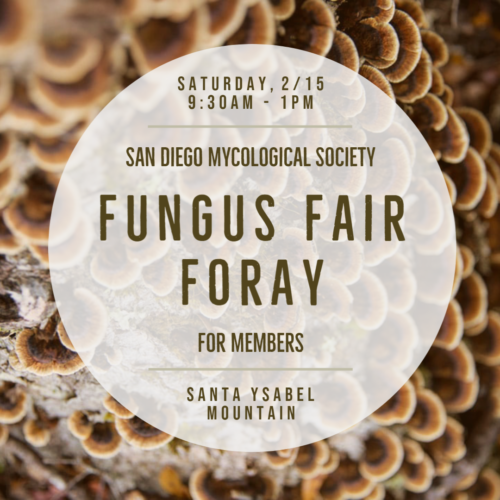 Join SDMYCO for our annual Fungus Fair Foray! We're excited to get out into the wild and collect fresh specimens to display at the Fungus Fair, which is being held the following day (2/16), at Balboa Park.
SDMYCO Member Foray
Saturday, 2/15
9:30am – 1pm  
Lighthouse Farm, Santa Ysabel Mountain
24251 Highway 76, Santa Ysabel, CA 92070
If you get to the lake or San Luis Rey campground you have gone too far.
Register HERE
The 2020 SDMYCO Fungus Fair Foray will be packed with a myco-diverse array of mushroom specimens to be collected. A debriefing on the basics of mushroom foraging methods and harvesting techniques will be demonstrated prior to commencement of the foray. After a few hours of mushroom hunting, the group will reconvene for a tasty potluck and social hour.
A Few Things To Note
This is a

members only

foray. Non-members can join

HERE

. Only one membership per family is required.

There are a

limited # of spots available

. Thus, each participant must register before arriving at the event. Unregistered attendees cannot participate due to liability.

All attendees

MUST REGISTER

due to liability and limited capacity.

Parking is limited

.

Please carpool

. You can register as a driver or rider at

HERE

.

Respect the land. We have a strong relationship with the land owner's and hope that each participant will respect the land as if it was their own so that we can continue to come back. 

All registered attendees are

to arrive by 9:30am

for check-in and debriefing.
Be Prepared
Dress for the conditions: hat, sunscreen, hiking shoes, rain gear and warm layers as needed

Bring water, snacks and a dish to share, as this will be a pot-luck event

Bring a basket, brown or wax paper bags, collecting containers, tools and ID books
Foray Agenda
9:30: Arrive via carpool (LIMITED PARKING) for check-in and debriefing.
10am: Depart meeting area and commence foray. If you arrive late, you can foray on your own. There will be someone to direct you to foray locations. 
12pm: Meet back at the house for specimen sharing and lunch potluck. Most mushrooms will not be identified until the following day, at the fair. Some members like to continue to forage in other locations; if so, please properly collect specimens and bring them to the fair the next day. We encourage member participation!