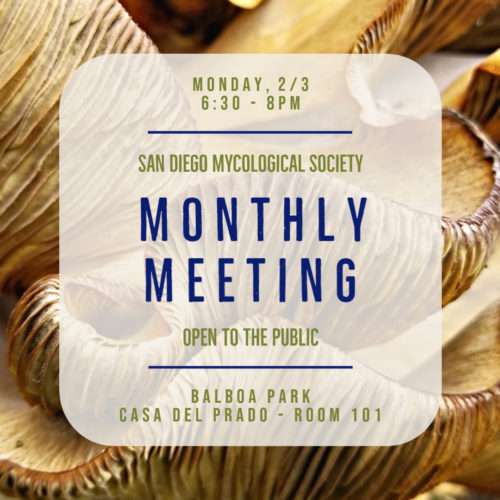 Hello Myco-Friends! Our next club meeting is one week away on Monday, January 6th. We'll be learning about the wondrous world of Mushroom + Lichen Dyes for Natural Color. We'll dive into the history, how to identify dye species and the process for extracting a rainbow of color.  Check out this video for a sneak peak.
As a reminder we meet the first Monday of each Month, October – May. Download our public event calendar to stay up to date on all the happenings.
February 3rd Meeting Details
5pm: Meet the speaker! Dinner @ Kairoa Brewing Company, 4601 Park Blvd
6:30 – 8pm: Meeting @ Balboa Park, 1650 El Prado, Room 101
Agenda
6:30: Welcome / House Keeping
7:00: The Art + Science of Mushroom + Lichen Dyeing presented by Sarah Minarik
Speaker Bio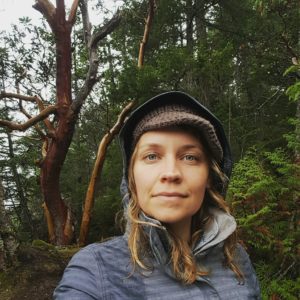 Sarah Minarik
Sarah's love of mushrooms began as a youth roaming off the beaten path in Northern California. Through the years she has become fascinated by their aesthetic beauty and finds herself most at peace while crawling through the forest seeking commune with the little beauties. Her current mycelial pursuits include photography, foraging for dye species for fiber projects, upping her identification game and volunteering as the Marketing + Communications Manager for SDMYCO.
Sarah will share the history of dyeing with mushrooms and lichen, how to identify local dye species and a bit of how-to via a glimpse from her trip to the Olympic Peninsula in November to immerse in 3-days of dyeing.
Instagram: @petrichordreamtime
SAVE THE DATES!
More details to come! Subscribe to our event calendar.
February 1st – Cultivation Class @ the Yoga Loft. A few tickets still available HERE. 
February 15th – Fungus Fair Member Foray, Santa Ysabel
February 16th – Fungus Fair, Balboa Park
TBA – More Mushroom Identification Workshops!
Forays
Here's a video from our last club foray in December created by our Education Manager Siena McKim. These pop-up as sporadically as the rain does so please be sure to keep an eye on your inbox for member mailings as well as for announcements on our social channels, Instagram + Facebook. At some locations we will have a cap on the number of people allowed on the property which means that space will fill-up fast! We are doing our best (with our all volunteer staff) to schedule frequent forays so that we can both 1) Document as many species as possible for the San Diego Mycoflora Project this foray season while also 2) Giving our members and fellow Citizen Scientists an opportunity to get out and into the field.
Community Request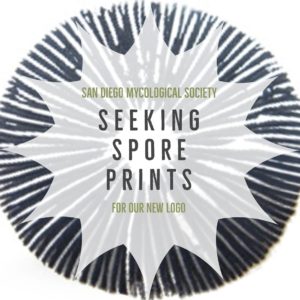 We are reinvisioning a logo and need your help! We are seeking local (to San Diego County) spore prints. They must be pristine, free from smudges and with enough clarity to photo scan for our purposes. If you haven't made one before this is a fun opportunity to experiment! Great as a kids activity too! The creator of the spore print we choose will be gifted a (newly logo'd) myco surprise. Please take a geotagged photo of the original mushroom and a picture of the spore print and email sdmycopr@gmail.com.
A BIG THANK YOU!
None of the offerings from SDMYCO would be possible without the hard work, dedication and expertise of our all volunteer Board of Directors. We had a great influx of interest this season and our Board has grown to 19 members! You can read about each of them on our newly updated Board Of Directors Page.
Next time you see them, say thank you 🙂
See you soon friends!